Return to Index!
Return to Flowers Index!

Katheryne Elizabeth Turnbull (Gervais)

(1931-2009)

"A Flower In The Forest"

Katheryne Turnbull Gervais Remembered

Obituary for Kathryne Gervais GERVAIS, Kathryne Elizabeth

After a courageous battle, Kathryne passed away peacefully with the love and the support of her family on Sunday, October 25, 2009, at the St. Catharines General Hospital-NHS. Predeceased by her husband and best friend Don (1992), by her daughter Debby Millions (1999), her son in law Rick Millions (2004) and by her grandsons Blake Millions (2003) and Taylor Wyse (2005). Beloved mother of Rhonda Wyse, Clayton Gervais (Joane), Lorie Matthews (Tim O'Brien) and Tracey Gervais (Bill Learn). Loving grandmother of Scott Millions (Tayna), Clint Fasciano (Antonella), Jessica Keiser (Jeff), Allison Wyse (Kevin), Quinn Wyse, Shelby Paquet, Cole Paquet (Samantha), Drew Gervais, Madison Matthews and wonderful Gee Gee to Rori Millions and Ryerson McLeod. Kathryne will be missed by many brothers and sisters in law and many nieces and nephews. Kathryne was a devoted health care worker at Linhaven until she retired and began home care for ParaMed. Kathryne provided compassionate care to her many clients who meant a lot to her. She was truly an Earth Angel. A special thank you to Dr. Findlay for his years of wonderful care and to Dr. Giesbrecht for being there in her time of need. In accordance with Kathryne's wishes cremation has taken place. Family will receive friends at the GEORGE DARTE FUNERAL CHAPEL, 585 Carlton St, on Tuesday, October 27, from 7-9 p.m. and on Wednesday, October 28, from 2-4 p.m. and 7-9 p.m.. A celebration of Kathryne's life will be held in the funeral home chapel on Thursday, October 29, 2009 at 11:00 a.m. If desired, memorial donations may be made to the Niagara Cancer Care Run Foundation or to the Princess Margaret Cancer Research Centre. **************************************************************************************************************************************************************

It is with heavy heart that I write to tell you of the passing of your cousin Katherine (Kay) Gervais (nee Turnbull) in St Catherine's Ont. She died after a lengthy struggle with leukemia. For many years she was able to lead a largely normal life recently however she lost ground. She worked right up until April of this year. She worked as a homecare worker for the elderly. She was very good at her work and was loved by her clients. She had known a lot of tragedy in the past years, having lost her beloved husband Don in 1992 followed by her Daughter Debbie and Debbie's husband Rick. She also saw the death of two Gransons. She remained positive right up until the end.

Gregory Turnbull,

Tulita, NT, Canada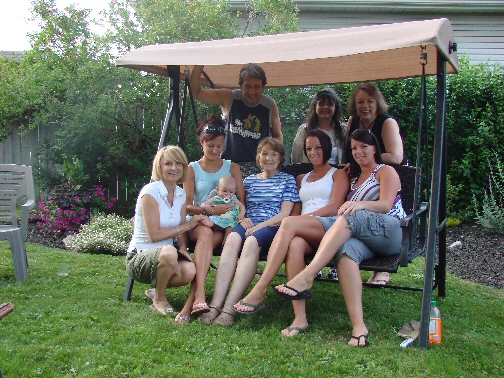 left to right front row are: Daughter Tracey Gervais. Granddaughter Shelby Paquet, Shelby is holding Great Granddaughter Ryerson McLeod, Katheryne Gervais, Twins Allsion and Quinn Wyse (Granddaughters), Back Row is Tracey's spouse Bill Learn, Gregory Turnbull's wife Lina Sayine-Turnbull, and Daughter Rhonda Wyse.

Photo from Gregory Turnbull
Click here to send comments to Lee Turnbull about this site!