FROM SCOTLAND TO NEW YORK

*******************
Click to see passenger list page photos




The search for Sarah Wood Turnbull's journey from Leith, Scotland to Rossie, New York in 1820

The following information gives a history of the search to verify the arrival of Sarah Wood Turnbull and her nine children to North America and eventually to Rossie, NY. The information provided has not been fully verified and documented through source documents. The changing of information should always be kept in mind as further documentation develops. Sometimes very quickly, or, as in this case very slowly. One should be encouraged to persevere in searching family history as this case shows.

This history started with Sarah Wood and Thomas Turnbull married in Scotland about 1791. Thomas and Sarah lived in the lowland Borders area of Scotland known as Bedrule, between Hawick and Jedburgh, in Roxburghshire, near the English border. This is the same area from which the Turnbull name originated almost 500 years earlier, in the 1300s, as the result of William of Rule (said to be the first Turnbull) saving the Scottish King, Robert Bruce, from the attack of a wild bull. According to Old Parish Records, Thomas and Sarah had 13 children, four of which died as infants,in Scotland. They first lived in Jedburg where their first four children were born. Somewhere around 1800, and for the next ten years, they lived in HOBKIRK where their next eight children were born. It is presumed that the family then moved north to Leith, outside of Edinburgh, where their son, Andrew, was born in 1813. The family may have moved back to Jedburgh because their father, Thomas, is listed as dying there in 1814.

During the next six years many Scots left the Borders area and traveled to the "New World" both in Canada and the United States. sending back glowing accounts of opportunities in the new world. By 1820 the widow, Sarah .Wood Turnbull, and her surviving, nine, unmarried children, aged 7 to 28, apparently decided to leave Scotland and journey to America to seek a better life. On June 16, 1820 Sarah and her nine children sailed on the Brig Margaret, along with 42 other "settlers" and several first class passengers,from the Port of Leith, Edinburgh, Scotland, destined for Quebec City, Canada. After eight weeks at sea, the Margaret made its way up the Saint Lawrence River and landed at Quebec City on August 10, 1820. Three days later, on August 13, 1820 they boarded a St. Lawrence Steamship Company steamship named the"Malsham"and proceeded further upriver to Montreal, Canada, arriving the next day, August 14, 1820. Based on many historical accounts of settlers traveling further upriver, it is presumed that they traveled by Durham type boats up the shallow, rapid filled St. Lawrence River to Ogdensburgh, NY, where they traveled inland some 20 miles to the "Scotch Settlement" of Rossie, New York in the United States.

On June 9, 2003 Lee Turnbull received an e-mail from Sue Swiggum of the website" The Ships List" relating how she was extracting Quebec ship arrivals from contemporary newspapers and transcribing the passenger lists of steamboats going between Quebec City and Montreal and points west.

In the "St. Lawrence Steamboat Co. Papers 1812-1892 / National Archives of Canada MG 28, III, 57 - Reel M-8273 vol. 4" an account of the steamer "Malsham" listing a Turnbull family of 10 caught her eye. She did a "Google" search using "Turnbull 1820 Canada". Finding the website, "The Turnbulls of Rossie, NY" (which has the information posted from a booklet of a family re-union held in Oxbow, NY during the year 2000), she saw that the names matched up with Sarah and children. She sent the e-mail to Lee who forwarded it to Gordon Turnbull and also to cousin Julia Moore.

An interesting side note about the St Lawrence Steamboat Co. records, is that the Molson family were 2/3 owners of the line, and the passenger lists were found in their archives, and passed to the National Archives of Canada, which is how we got lucky. The Molson family is still very prominent in Canada, and were THEN, as they are NOW, brewers. Almost everyone has heard of Molson's Canadian beer or ale.

Lee was excited…..Julia found this most interesting and... Gordon was ecstatic to think about a possible 100% match of information The steamboat "Malsham" sailed from Quebec City on August 13, 1820 with 10 Turnbulls listed and also a Mr. Peddee heading to Montreal. With information Gordon provided, Sue was able to search "The Ships List" website and found a good match in a ship called the Brig Margaret from records reporting it's arrival in the Quebec Mercury. These records had been extracted earlier by Marj Kohli. Very exciting! It had arrived at Quebec City on August 10,1820 ...but no port of departure was listed for it. Bummer!

Sue then contacted her partner of "The Ships List", Marj Kohli, who, on her lunch break, searched the records of the Montreal Gazette for arrivals and found on Aug 16, 1820 the arrival in Montreal of the "Malsham" - Aug 16 - only contains arrivals up to Aug 8. Item reads: "On Monday last about four o'clock afternoon, the Earl and Countess of Dalhousie and suite arrived in the Steam boat Malsham. His Excellency was received on his coming on shore by the Grenadier company and music of the 37th Regt. and conducted to the Mansion House; on this occasion the usual salute was fired from the Fieldpieces on the Terrace of the Champ-de-mars." She also found a report of arrivals at Quebec City listed for August 10 to August 17, 1820. August 10, 1820 listed: Brig Margaret, A. Olephant (Master) 16th June from LEITH! (What a find!) carrying glass and ballast, Passengers listed were MR. PEDDIE, Mr. & Mrs. Gibson and family and 50 settlers. This Mr. Peddie may tie in with the one on the "Malsham" and thus the Turnbull family may have been on this same ship!

The Brig "Margaret" sailed from Leith , Scotland 16 June 1820 and arrived in Quebec City 10 August 1820, one day shy of 8 weeks, as family legend had stated for Sarah and children. Three days later, the "Malsham" sailed from Quebec City with the ten Turnbulls and a passenger called Mr. Peddee. The passenger list for the "Malsham" included 10 Turnbulls whose names on the list coincide with our Turnbull ancestors. How great is this? They arrived at Montreal on 16 August 1820. Where to from here? Keep searching! Isn't this fun and exciting? The link-ups appear to be 100%.

From Lloyd's Register: Margaret Brig, 218 tons, single deck with beams, hull sheathed with copper, draught 14 feet (4.26m), rigged with proved iron cables. Owner: Oliphant of Leith. Classified A1.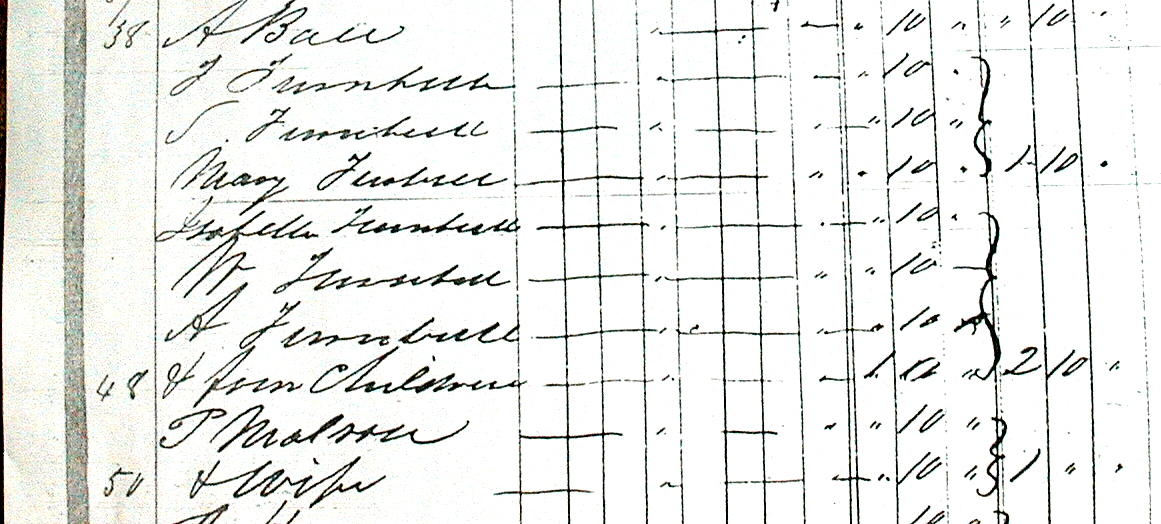 Close up of the "Malsham" passenger list containing the Turnbulls.

Note the handwriting. How difficult and tedious is the work of these transcribers who have gone overboard (so to speak) beyond these endeavors to search us out and provide additional information. Thank you, ladies! Forever Turnbulls…Forever indebted.
Transcriptions of documents have been provided by "The Ships List" and may be viewed from these links:

This is the main entrance to The Ships List

This is the link to the sailing of the "Malsham"

Note in the right column the full names of the Turnbulls and also a link to the Brig "Margaret"

Direct link to the "Margaret"

If you want to see what a "Brig" looked like select this link! Brig Rigging

Just thinking of traveling in that kind of ship with the weather conditions, living conditions and nine children to supervise brings to mind an appreciation for the stamina and determination of Sarah.

Here is the index for passenger lists
The Ships List is being honored as one of the "Best 101 Web Sites for 2003" in the August issue of Family Tree Magazine. Quoting:" Besides links to passenger lists, The Ships List offers a virtual education in 19th century shipping, from photos of ports and vessels to period narratives. How mush was a Trans-Atlantic ticket when your immigrant ancestor sailed? You can find your answers here at "The Ships List"
Click here to go to The Family Tree Magazine Article.
Return to top
*******************
Photos of the Passenger List for the "Malsham"
Click thumbnail to enlarge
Double click image to shrink
Malsham Passenger List Page 1
Note Mr. Peddie named
Malsham Passenger List Page 2
10 Turnbulls listed
*
*
Malsham Passenger List Page 3
Earl of Dalhousie & Family listed
Close up of Malsham Passenger List Page 2
Note 5 Turnbulls & 4 Children
Return to top